Wedding Reception Drinks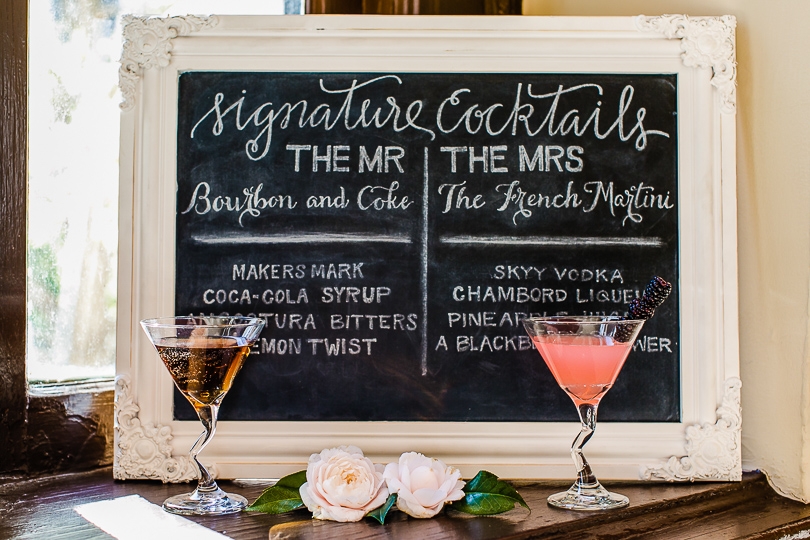 Although you could stick to the classics for your wedding reception—beer, wine and maybe some mixed drinks — if you're looking to shake things up, read through this post for some great wedding reception drinks inspiration and ways to serve them.
A great way to personalize (and simplify) the bar menu at your wedding reception is to serve your own favorite cocktails.  Your guests can choose between 'His and Hers cocktail' or possibly a third (virgin cocktail) option that represents both bride and groom. You could put up a chalkboard sign to describe both cocktails or design and print small cocktail menus.
Perfect for a hot summer wedding is to serve popsicle cocktails. Nice and refreshing and you can play with interesting flavors. Think basil and lime, lavender, or orange blossom. Up to you whether you would like to spice them up with different types of liqueur for your wedding reception.
Another fresh and fruity option would be to set up a self-serve bubble bar. Your guests will get to mix and match all different kinds of sparkling water, wines and champagne and fruity purees, herbal syrups and juices.
For an autumn or winter wedding reception, a great option to keep your wedding guests warm and sharp is to offer a selection of spiced up coffees and hot chocolates with their choice of bourbon, whiskey or liqueur. Of course people can also go virgin and add a nice gullop of cream instead.
Over the past years Gin and craft beers have gained immense popularity. A classical Gin tasting chart with a great selection of Gin and special tonics could be the eye catcher of your wedding reception and an amazing selection of craft beers will for sure allow your guests to kick back and enjoy your special day.
10 Creative Cocktails by Bridal Guide: http://bridalguide.com/planning/wedding-reception/creative-cocktails