Winter Wedding Theme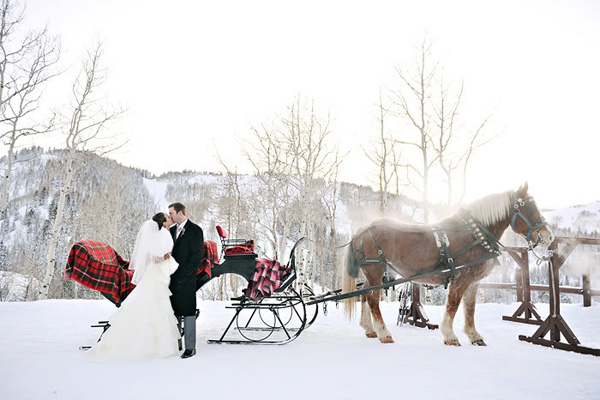 First off: a winter wedding to embrace the season doesn't automatically mean that it's a 'season's greetings' wedding. Therefore you'll want to avoid the red and green color combination. Secondly, there is no reason for the bride to suffer from the cold. Long sleeved wedding dresses are amazingly elegant and perfect to add that little extra layer of protection. Thirdly, remember to extend your winter wedding theme to the 'save the date', wedding invitations and RSVP cards. These are a great first hint for your guests to understand your wedding theme.
A classic winter wedding theme is an elegant all white wedding. You basically avoid the struggle of matching everything to one particual shade and you can use crystal elements to add a little winter glamour accent. But keep in mind that less is more definitely applies here. Keep it simple and elegant and work with different shades of cream and white. Your bouquet could be all white, as well as the flower girl's and bridesmaid's dresses.
(no worries, they wont steal your thunder!)
If you are more of a cozy type, you might prefer the theme of a winter holiday, with the feeling of a warm chalet in the Swiss Alps or an Aspen ski lodge. You could welcome your guests with mulled wine or hot chocolate. You could even host a night time outdoor wedding ceremony under a starlid sky with lots of candles and warm blankets for the guests to cuddle up under. For table decorations think about warm wooden details, checkered tablecloths and typical ski lodge details. Personalized snowglobes will make a great wedding favor.
In case you don't shy away from a theatrical touch, a proper Winter Wonderland themed wedding might be your style. Think lots of fake snow, spray painted branches and pine cones, with silver, sparkly elements and crystal snowflakes as table decorations. White tablecloths, white chairs and lots of tea lights on the tables mixed with large white church candles in big chandeliers. Keep the lighting low around the room and you could use ice sculptures as centre pieces for an extra 'magical' effect. You could even add snowflakes to the design of your wedding dress and ask your wedding make-up artist to create a stunning 'ice queen' look for your magical winter wedding!
You can find some amazing ideas on Pinterest: https://es.pinterest.com/search/pins/?q=winter%20wedding&rs=typed&0=winter%7Ctyped&1=wedding%7Ctyped