Pet Lovers – Ways to Include Your Pet in Your Wedding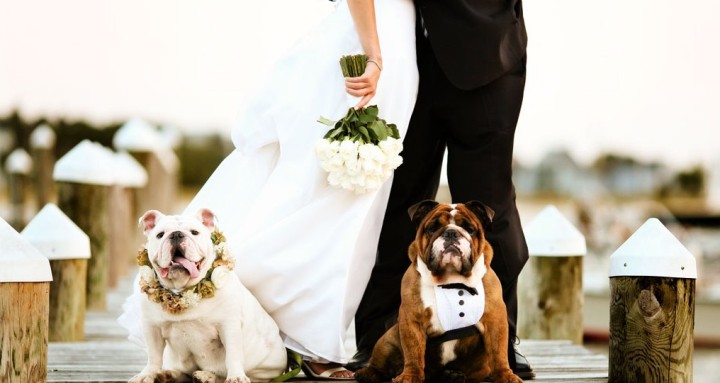 Pet Lovers: From dogs and cats in tux, to fancy pigs, flower birds and elephants: We've seen it all! This blog post is for all the pet lovers who would love to include their pet in their wedding.
Firstly I would like to stress that even though you would love for your furry friend to be part of your wedding, you really need to consider whether this will also be an enjoyable experience for the pet. You will need to ask yourself whether your pet will feel comfortable enough around your wedding guests and whether the animal is obedient enough and well behaved. Not everyone is a pet lover, unfortunately. Please keep in mind that even the most sociable and friendly pets could get overwhelmed by lots of new people, smells and food around so there is a chance they might behave differently.
Once you have decided that your pet can be a part of your wedding, you can start considering whether he will just be a guest of honor or if he'll actually have a specific role such as ring bearer or (accompanying the) flower girl. Of course including an animal in your wedding ceremony will take extra work and planning and however you decide to include your pet, you have to make sure to assign someone that you can trust to keep a close eye on him so that you can focus on your special day!  Another good option would be to hire a dedicated pet-sitter. You don't want to worry all the time where your pet is or have a potential disaster.
Keeping your wedding pictures in mind, you may want to dress your pet accordingly or add some cute wedding accessories such as a top hat, flower necklace or even a small tux or dress. Of course always make sure that the wedding outfit doesn't create any discomfort for your pet.
Important side note: always make sure to confirm with the wedding venue and hotel if they allow pets!
Outfits for your pets – ideas- https://es.pinterest.com/search/pins/?q=pet%20wedding%20outfits&rs=typed&0=pet%7Ctyped&1=wedding%7Ctyped&2=outfits%7Ctyped