Circus Wedding Theme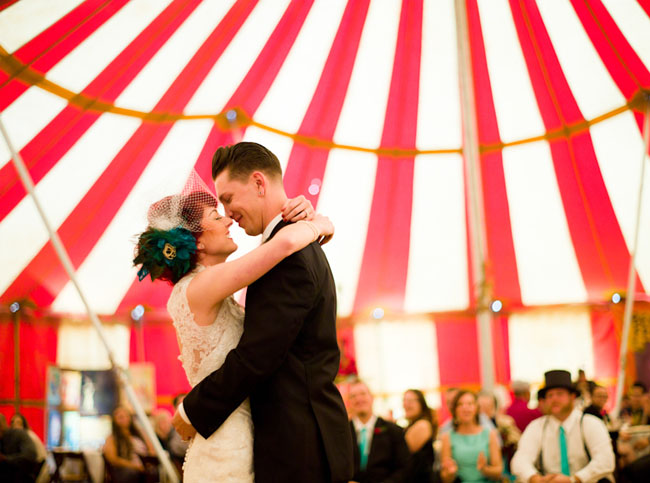 Whimsical. That's the first word that comes to mind when writing about a circus wedding theme. A circus inspired wedding theme means lots of colors, lights, feathers and DIY accents. This post is all about the vintage 1940's circus style that has grown quite popular over the last years. Complete with proper carnival things such as a circus tent, popcorn and candy stands, fire eaters and carousels. A feast for your eyes!
Of course you will introduce your circus wedding theme with your Save the Date, Wedding Invites and RSVP cards. They offer the perfect opportunity to get creative and inspire your wedding guests. A circus wedding theme works perfectly well with an outdoor wedding ceremony even though you obviously can't beat a proper circus tent. If the weather allows it, you could have an outside wedding ceremony and then use the tent for the wedding dinner and after party. And honestly, entertainment wise, the possibilities are endless. You could hire aerial dancers to perform at the wedding reception, jugglers for during the wedding dinner, fire-eaters to light up your wedding after party and lots of magical little corners where you could have your hand read by a fortune teller or have your picture drawn by a caricature artist.
Nothing is too crazy for a circus wedding theme. Just go all-in and mix Burlesque 20's, vintage and funky retro. Think outside the box. You can be edgy with daring colors such as red (velvet), gold and purple. No need to hold back. Your flower girl and ring bearer can be dressed up according to the circus theme. Just imagine that tiny top hat!
Giant balloons are great for the decor, crazy vintage props and costumes, marquee lights and of course old school games, food and drinks. Definitely consider the classics such as hot dog and popcorn stands, cotton candy, a gumball machine, yummy cupcakes and milk shakes. You could decorate your snack tables and bars with lots of colorful (fake) flowers, retro signs and of course, tickets to the circus.
Go to Pinterest and find some inspiration: https://es.pinterest.com/search/pins/?q=circus%20wedding%20theme&rs=typed&term_meta[]=circus%7Ctyped&term_meta[]=wedding%7Ctyped&term_meta[]=theme%7Ctyped